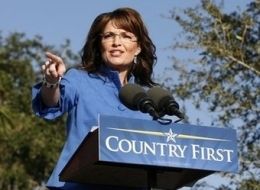 LOL! It blew my mind that she believed the whole thing so easily. Those guys did not even try that hard. You can tell she got all giddy and nervous from getting a call from the top French dude because she had this silly laughter like a pre-pubescent girl who is totally flattered. For a moment she sounded like she was about to... climax?.
When the NYT did their first report on her, it became obvious that she run Wasilla and then Alaska as though she were in charge of her high school's student government. Unfortunately, she acts the same way now that she is presumably close to being VP of the United States.
That neither she nor her staff realized there was something wrong with the call is amazing. Heads of government don't call each other without scheduling the phone call ahead of time (it is no as if they are all waiting for their beer buddies to call). They will only called unannounced if there is a major emergency, and even then there is always a protocol to be followed, of which the governatrix and her staff seem to be unaware. Real scary.
Read the Article at HuffingtonPost